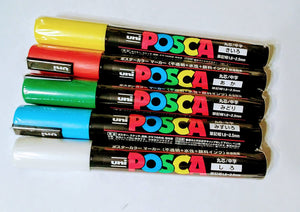 Queen Marking Pens
Regular price
$27.90
$0.00
Tax included.
Sold as a set of 5 colours, the pack includes yellow, red, green, blue and white POSCA queen marking pens.

These Posca queen bee marking pens are an easy way to track the age of your queen bees. Using the below international standard you will always know the correct age of your queens. 
The below chart explains the age designations associated with each marker colour. The colour used to mark the queen bee is based on the last number of the year that the queen was born. 
International Standard of Queen Marking - Year Ending
0 or 5 – Blue
1 or 6 – White
2 or 7 – Yellow
3 or 8 – Red
4 or 9 – Green
Price is for a set of 5 pens.
---
Share this Product
Posca bee marking pens
We were surprised when the pens arrived as we thought that Posca Uni Pens were not good for bee marking and we had searched everywhere for just plain Posca pens without the Uni. Seems like we were mislead so we will try the pens you sent us next time we open our hive.
---
More from this collection